Hyatt Regency Shenzhen Airport Opened in China
---
NowShenzhen | May 24, 2018
Hyatt Hotels Corporation (NYSE: H) recently announced the opening of Hyatt Regency Shenzhen Airport in southern China's Guangdong province. The 335-room hotel welcomes global travelers passing through Shenzhen airport to relax and recharge before their next journey.
"Hyatt is a pioneer of airport hotels and we are proud to announce the opening of the first Hyatt Regency hotel in Shenzhen, a fast developing city with huge economic vitality," said Stephen Ho, president, global operations for Greater China, Hyatt. "The first Hyatt hotel was founded near Los Angeles Airport in 1957 to provide greater convenience and comfort to our guests. With the same sense of innovation that inspired Hyatt over 60 years ago, Hyatt Regency Shenzhen Airport will provide Hyatt guests with an experience to make the most of their stay."
As a modern international airport and one of the busiest in China, Shenzhen Bao'an International Airport welcomed over 45 million travelers last year, and has become an important transportation hub in the Pearl River Delta Region.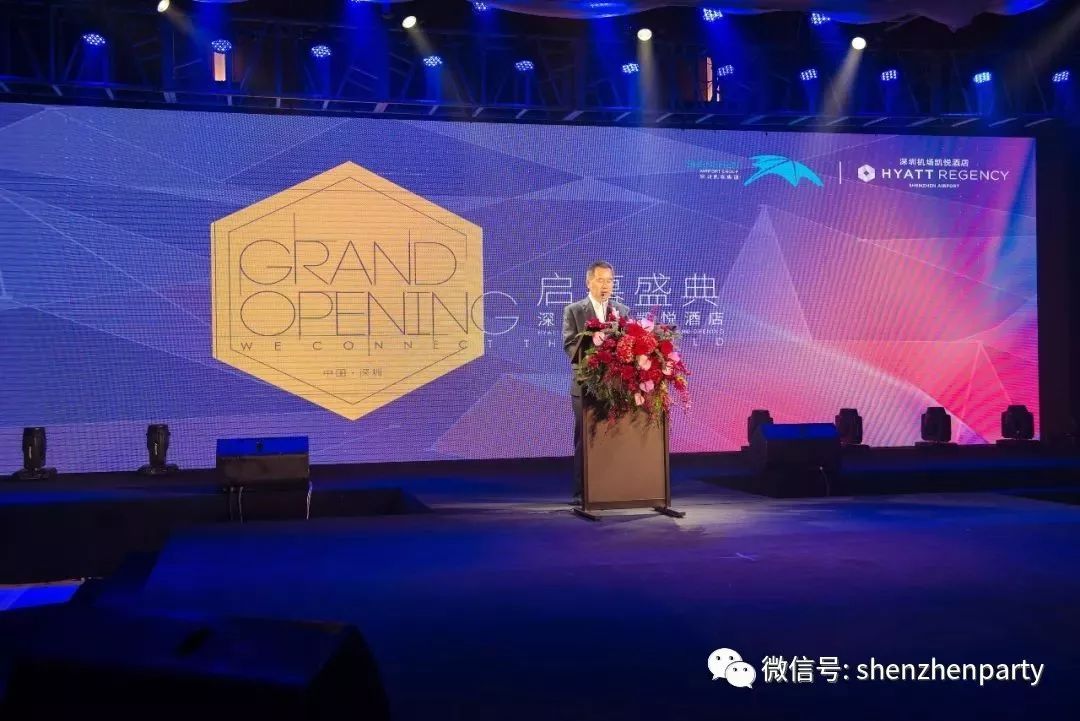 "We are very grateful for the vision and trust of the hotel's owner, Shenzhen Airport Group, and together with our other hotels under their ownership – Hyatt Place and Hyatt House Shenzhen Airport, we look forward to welcoming global travelers with diversified hospitality choices," Ho added.
Hyatt Regency Shenzhen Airport is located on the west side of the terminal hall at Shenzhen Bao'an International Airport, a five-minute walk from the arrival and departure hall via an indoor pathway. With easy access to transportation by ocean, land or air, Hyatt Regency Shenzhen Airport enables business and leisure travelers to easily connect with the very best of China's dynamic southern gateway city.
"Every element of Hyatt Regency Shenzhen Airport has been designed to provide guests a world away from the stress of travel and the convenience and comforts of a truly hassle-free retreat," said Billy Yap, general manager of Hyatt Regency Shenzhen Airport. "We are ready to welcome guests to touch down in style – from the contemporary design and spacious layout of our guestrooms, to the authentic flavors from our restaurants and bars – our guests can always enjoy an energizing experience."
Contemporary Guestrooms
---
Hyatt Regency Shenzhen Airport's 335 well-appointed contemporary guestrooms are designed as soothing sanctuaries where functionality and style intersect to create a sense of true well-being. A streamlined design featuring natural honey-colored woods accented with pops of russet orange, creates a tranquil ambiance for travelers to pause their hectic pace and feel at home.
Guests will immediately feel the luxury of space with rooms ranging from 431 square feet to 2,640 square feet, and featuring floor-to-ceiling windows with exciting airport or city views. All rooms are insulated to ensure a peaceful rest. Complimentary high-speed Wi-Fi and broadband internet and generous work areas enable guests to stay productive, while 55" flat screen TVs with cable/satellite TV channels and a Bluetooth audio system allow them to stay connected.
Those looking for an upgraded stay can select the Regency Club accommodations offering exclusive guest privileges including access to the Regency Club lounge on the 11th floor. With exciting views of the runway, Regency Club guests enjoy private check-in/out, complimentary daily continental breakfast, all-day snacks and evening cocktails, plus use of the private meeting rooms.
The hotel's four restaurants and bars connect guests with authentic flavors of the region and the world. Xiangyue Chinese restaurant showcases local Cantonese cuisine, as well as Northern Chinese and Sichuan specialties, accompanied by fine wines, spirits and teas. Ten private dining rooms with butler service are tailored for business banquets and elegant social dining.
Market Café invites diners to celebrate the vibrancy of an Asian Da Pai Dong (street food) experience, along with an open-kitchen Italian Grill and The Deli & Bakery. Guests can feast on gourmet creations prepared a la minute at live chef kitchens during breakfast, lunch and dinner, plus an international all-day a la carte menu.
The stylish Lobby Lounge is where travelers of the world connect. Guests can enjoy a light meal and refreshment before or after a flight, or gather with friends and colleagues for afternoon tea or cocktails. The relaxing lounge also offers the convenience of all business center services, including wireless internet, printing and meeting rooms.
The Bar is a jet-setter's retreat inspired by vintage airport lounges with hardwood floors and leather upholstered bar stools setting a casually sophisticated ambience. As jets take off and land on the runway visible through picture windows, guests can relax and socialize with hand-crafted drinks and snacks while keeping up to date on real-time news, sport and flight information via interactive screens.
Custom designed and intuitive, Hyatt Regency Shenzhen Airport offers more than 18,000 square feet of versatile event spaces. The 10,591 square foot pillar-free Regency Ballroom can accommodate up to 1,000 guests, with a special entrance for vehicles and floor-to-ceiling windows providing natural daylight. Six multifunctional meeting rooms host between 15 and 200 guests, with chic breakout spaces and advanced audiovisual equipment. Complementing the indoor spaces is a 49,514 square foot outdoor garden – ideal for a wedding ceremony, cocktails and other themed parties.
Bridal couples can celebrate a magical wedding day with loved ones before jetting off on honeymoon. A spacious bridal suite beside the Regency Ballroom includes a dressing room, make-up area and relaxation lounge ensuring a luxurious bridal experience. Expert event organizers, skilled chefs and highly experienced service teams are ready to tailor each memorable occasion.
Relaxation and Energizing
---
An energizing workout or soothing spa treatment helps keep travelers feeling their best. FLO Spa pampers guests with six private spa rooms and an extensive menu of relaxation and beauty treatments, while the 24-hour gym is available for guests whenever they wish to work out, offering the latest cardio equipment, weight machines and free weights. In a granite setting with lush vegetation, the temperature-controlled indoor swimming pool is accompanied by a steam room, sauna and whirlpool.
Place Name: Hyatt Regency Shenzhen Airport 深圳机场凯悦酒店
Phone Number: +86 755 2345 1234
Place Address: Shenzhen Bao'an International Airport, Baoan District, Shenzhen 深圳宝安国际机场西侧
Website: https://shenzhenairport.regency.hyatt.com